Owning a home is one of the most satisfying feelings you'll ever experience. To safeguard your home, you should do your best to avoid storm damage or a leaking roof. The first step in solving a roof leak is to understand its underlying causes.
Common Causes of a Roof Leak
Although a leaky roof might start small, the issue might be magnified by various factors. These include:
Storms – Roofs bear the brunt of extreme weather conditions such as hail and blizzards. Florida and neighboring locations are subject to regular tropical storms. The effects from these storms accumulate over time and cause a leaking roof if not diligently maintained.  
Animals – Birds, rats, and mice build nests in attics. Rodents also like gnawing on wiring and wood which increases the chances of a leaky roof.
Natural Wear and Tear – If not secured well, roof seams become a weak point for leaks to start. To avoid this, regular roof maintenance is crucial.
Rooftop Equipment – Exhaust fans, HVAC units, and other equipment can intensify storm damage in a leaking roof. Missing screws and rotting washers are potential water entry points during heavy downpours.
If left unchecked, a roof leak could cause structural damage to your dream home.
How to Identify Roof Leaks After a Storm
To avoid accidents, you shouldn't climb to the roof to inspect it. This should be left to a professional roofer. A keen inspection of your home can reveal tell-tale signs of roof leaks. They include: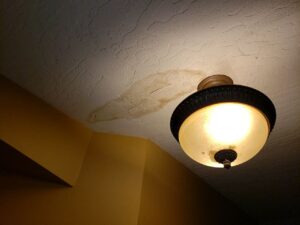 A musty smell around the house especially in the attic.
A water-stained ceiling, rafters, and roof sheathing in the attic.
Damp spots around fireplaces and air vents.
Sounds of dripping water in the house.
Peeling interior paint during or after downpours.
Clogged gutters and downspouts.
Rotting roof denoted by discolored shingles.
Moist paint around electrical outlets and light fixtures.
If you notice any of these conditions, contact a roofing expert as soon as possible. Quick action can stop further damage not only to your roof but the entire house.
Concerned about Storm Damage or a Leaking Roof?
Pro Roofing & Siding is a one-stop-shop for all your roofing needs. Our roofing specialists are renowned for their expertise, reliability, efficiency, and honesty.
If you have roofing issues in Georgia, contact us today for practical solutions. Our services are guaranteed to reinforce your home's strength, safety, and security.