Gutter Installation Experts in Metro Atlanta
Pro Roofing and Siding is a gutter installation contractor with excellent local reputation and many 5-star reviews. Contact us today and get a free assessment from our specialists.
Do you need help with Gutter Installation or Repair?
Get a free estimate today!
Please submit your information and our team will reach out to you within 24 hours.
ANY QUESTIONs? CALL US TODAY!
Residential Gutter Service
If you are looking for gutter installation contractors in the Metro Atlanta area, Pro Roofing and Siding is your best choice! We are a long-standing exterior home improvement company with industry qualifications and a local reputation to ensure a stress-free experience when dealing with your house gutters. Whether you need a gutter repair or gutter replacement, or even gutter installation in your newly built residential property, we are the right company to contact if you want the job done correctly at a fair price.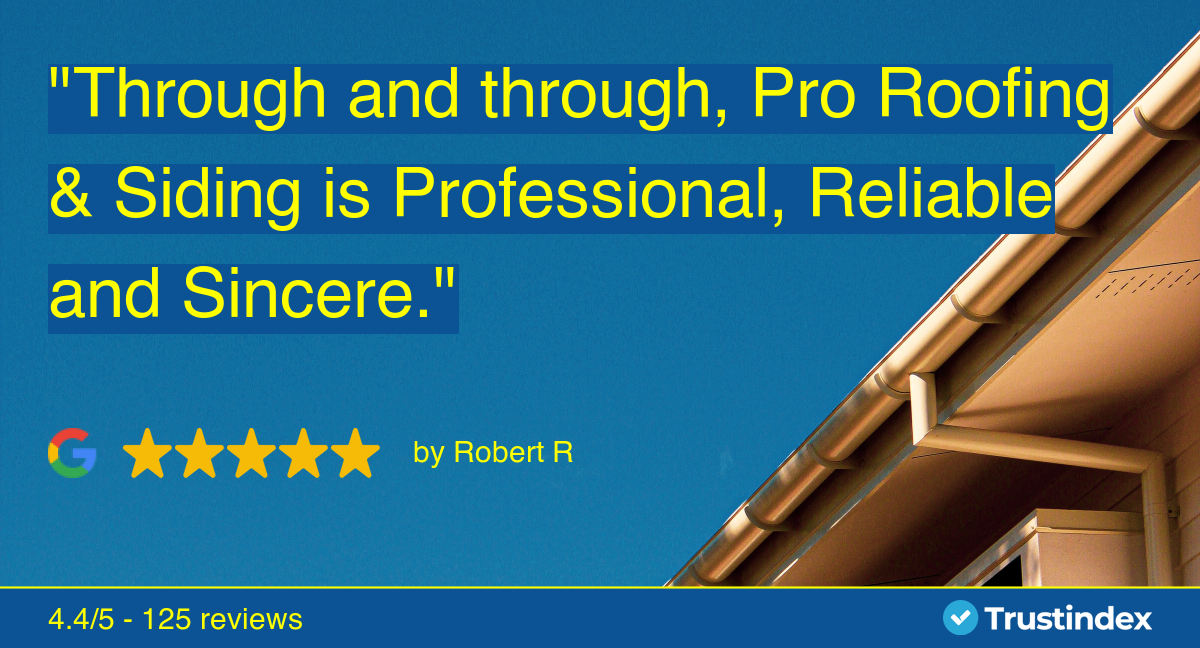 Why it is crucial NOT to neglect your Gutters
Gutters are a minor yet vital feature of residential properties. They are responsible for allowing all the water to drain off the roof correctly after heavy rains hit your neighborhood. Without well-functioning gutters and downspouts to keep rainwater away from your home's foundation, your property may sustain severe structural damage over time, leading to costly consequences.

When you notice problems like water pooling around the foundation of your property, erosion problems, or water coming into the house either in the basement or the roof, you need to contact a specialist to help you assess the situation immediately. The faster you address the case, the better. The issues mentioned above are common signs that you most likely need a gutter repair or replacement done as soon as possible to keep your home's integrity well protected and prevent more serious problems from arising.
Not sure about gutter installation cost?

Don't worry, we got your back!

Our specialists will provide you with a Free Gutter Inspection to help you determine whether your gutters are functioning correctly or if a gutter repair or replacement is needed to solve the issue.

Pro Roofing & Siding is a top gutter installer to help you find a workable solution that fits your specific needs.
We are the all-in-one solution for all your home exterior remodeling needs. Apart from gutters, our highly trained team of home improvement technicians can help you with:
Hear it from our customers!
Already Thinking about a gutter installation or replacement?
As a homeowner, there are a few ways to determine if your rain gutters have reached the end of their lifespan and are no longer reliable.

1
Age of Your Gutters
The age of your rain gutters can make it easier to determine when to replace the materials. Most rain gutters come with the house and last an average of 20 years. If you have copper rain gutters, you can expect them to last at least 50 years. You may also notice some parts of the home are rotting because the rain gutters have leaks, which causes the siding to have contact with the water. There may even be mildew that is present because of too much moisture that fails to dry. The moisture can also enter the basement when it accumulates and occurs when the gutters are damaged. Gutter replacement is the best step to take to remedy the issue to prevent extensive repairs in the future.
2
Have a gutter specialist thoroughly inspect your rain gutters to determine if they look damaged or worn. You can test out how well they work by adding water to the gutters with a hose. The water should move at a steady pace and flow well without leaking near the top or bottom. There might be a need to install extra gutters if you spot areas where the water flows into your flower beds. Also, you may notice that cracks are present in some of the materials, which means they're not doing their job and are defective. Moreover, more minor cracks may be present, which aren't always easy to spot unless a storm arrives and you notice areas where water is leaking. Small cracks are easy to repair, but larger cracks signify it's time to replace the materials.
3
Stress on the seams

One of the most common areas where stress occurs on rain gutters is on the seams. You may notice the materials are separated, and leaks are present. You may find signs of peeling, which occurs when the parts get exposed to too much moisture over time. Repairs don't typically fix this issue, and most experts will tell you gutter replacement is necessary. There may also be areas on the gutters where the paint had eroded or faded and there is rust present. Furthermore, if you notice rust on the materials where leaks occur due to water leaking through the materials. Not only will this affect the curb appeal of your home, but it can cause the metal parts to break down over time. Consider replacing the structure with seamless gutters to avoid the same types of issues in the future.
Why Seamless Gutters?
The design and function of your rain gutters may require you to remove debris that accumulates each season. Installing a one-piece seamless gutter system can limit how many leaves and twigs enter the gutters, even in the middle of harsh storms and strong winds.

Compared to traditional rain gutters, seamless gutters are more advanced and don't have many parts, which means there's also less risk of leaks developing over time. Additionally, there aren't any seams present, which creates a cleaner look and doesn't allow water to start to drip out over time as the material ages.

Key Benefits of Our Installed Gutters:
Frequently Asked Questions
Pro Roofing and Siding is a licensed home improvement contractor in the State of Georgia. Additionally, our company is covered for any liability issues that can come up during the work.
Yes, we work with ALL insurance companies.